---
REGISTRATION FOR SUMMER 2020 IS STILL OPEN!!
OUR EARLY FALL/WINTER TUITION RATES WILL BE AVAILABLE UNTIL FEBRUARY 15TH.
SIGN UP TODAY USING THE REGISTER ONLINE ICON, TO SECURE ENROLLMENT FOR OUR 47TH SUMMER.
---


THANK YOU FOR ANOTHER GREAT SUMMER!!
Musical Theatre, Dance, The 2019 Video Yearbook and Owl's Eye will be coming soon!!
Keep checking back.


---
2019 YEARBOOK VIDEO TRAILER
Click on the link below to view
(Password is the same as Talent Show Video)
2019 Video Preview
---


TALENT SHOW VIDEO SEGMENTS ARE NOW AVAILABLE FOR VIEWING UNDER THE MEDIA OWL TAB.

Video Password is the same as Picture Password. Call the office is you have misplaced it.
---

SPIRIT SHIRT ORDERS
SSDC's new SPIRIT SHIRT.
These shirts will be available for purchase again next summer.

---


**Pictures for Weeks 1,2 ,3, 4, 5, 6, 7, 8 and the Talent Show are under the
Media Owl
for your viewing pleasure.
Hampy's Kitchen Cookbbok 2019 is
available for download.
---

Thank you for your continued support as we begin our 46th summer at camp.
Please call camp at 215-355-4567 to schedule a tour and see us in action.
Hope you can join us at SSDC for our 47th Summer,
Hampy, Honey and Little Hoot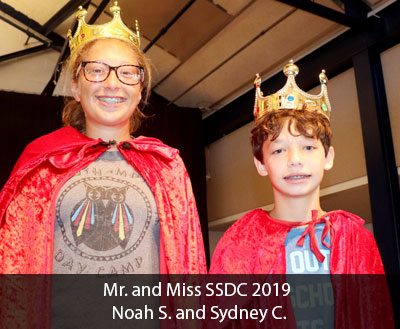 Thank you for visiting Southampton Summer Day Camp. We are proud and honored to have served our community youth & their families for 46 fun years! 2019 will be the BEST SUMMER EVER!!!

NEW MR. AND MISS SSDC FOR 2019
Noah Shiloh and Sydney Czekay!!!