VERTICAL TREK CONTINUOUS-BELAY HIGH ROPES CHALLENGE COURSE WITH MULTIPLE PODS. Put on your harness and helmet to challenge yourself on our new course. This new system allows for seamless transitioning between platforms, and high rope elements.  Campers can feel safe knowing they are always connected, as our Outdoor Challenge Staff provides a fun and exciting experience without the stresses of constantly checking connection points.
Take a vertical climb to a central platform to start your challenge.  New elements include an Indiana Jones Bridge, Catwalk, Pirates Crossing and Swinging Chairs, all ending in a "Leap of Faith."
AMERICAN STYLE NINJA LOW COURSE.  Take a swinging rope into a cargo net to begin your adventure.  Cross the Swing Log, Tire Traverse, Monkey Bars and Indiana Jones Bridge just like a real "Ninja Warrior".
THESE NEW COURSES ARE IN ADDITION TO OUR ALREADY EXISTING ELEMENTS
Giant Zipline across Lake Daniel
4 – sided climbing rock wall including a "45-degree climb", "a ledge", "a flat" and a realistic rock "contoured" section.
"Ride the Ridge" Zipline with auto-stop system
Giant climbing and rappelling tower
Junior Zipline and Air Bungee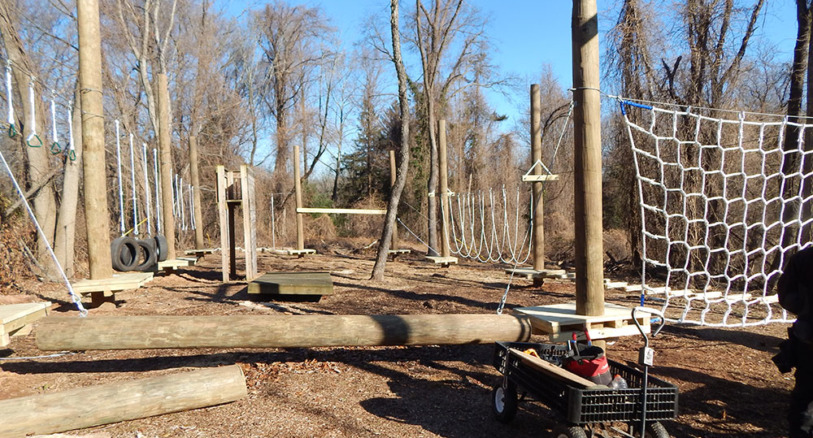 All levels of ability find excitement and challenges in our Outdoor Challenge Program.  Our experienced and well-trained staff will ensure that our campers can choose to undertake the challenges they like without competitive pressure.  This is all accomplished with consistency and total safety.  Whether you are scaling one of our rock walls, zipping one of our ziplines, or taking on our brand-new NINJA STYLE or CONTINUOUS-BLEAY ROPES COURSES, our campers can test their limits, build self-reliance and broaden their horizons.
We strongly believe at SSDC that our NEW OCC COURSES provide opportunities to grow as a person – physically, emotionally, and mentally. The lessons learned through adventure experiences have the potential to produce positive life change that is both significant and lasting.
AND BESIDES THAT, IT'S BIG FUN!!!